Seems like the New York Post has the inside scoop on Tiger's return to golf.

A story posted on Thursday and referenced by other media organizations, stated "Ari Fleischer, the former presidential advisor to George W. Bush and the man who was brought in to help repair the steroid-shattered image of Mark McGwire, has been huddling with Woods, plotting a strategy for his return to golf — at the Arnold Palmer Invitational starting March 25 at Bay Hill in Orlando, Fl."  The sources were two people from "the golf community."
The date of the return is encouraging.  His choice of advisor isn't.
The man who claims on his website to be able to "help you handle the bad news and take advantage of the good" which includes sharpening messages and improving images," did not exactly hit it out of the ballpark with McGuire.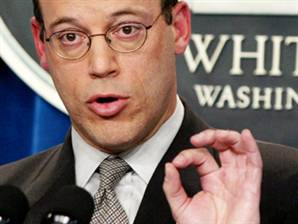 In the San Francisco Chronicle, John Shea wrote a story talking about how McGwire's admission became a denial.  He called out Fleischer, saying:
How could a former White House press secretary not see it coming? How could he miss on prepping McGwire on the benefits of steroids? Having worked under President George W. Bush, he should have known to cover all the basics. Like, what if someone, say Bob Costas, asks McGwire if he would have hit all those home runs without juicing.

When McGwire said "absolutely," it reminded everyone he hit home runs as far back as Little League and legion ball, and talked about his "gift (from) the man upstairs," his admission suddenly became a denial. McGwire wasn't apologizing as much as justifying."
In commenting on today's news, Gene Wojciechowski, the senior national columnist for ESPN.com remarked,
"The best Tiger Woods could do is hire the guy who orchestrated Mark McGwire's bungled re-entry into baseball? The guy who shills for the galactically stupid and indefensible BCS? The guy who counseled the Green Bay Packers on how to deal with their Brett Favre divorce proceedings?"

"Woods doesn't need to be managed, especially by someone who appears to think the BCS is a brilliant idea. He doesn't require advice from the same person who signed off on McGwire's delusional steroids-didn't-help-me-hit-home-runs explanation."
Looks like the crisis/reputation management guy needs a crisis/reputation manager.
Circling back to the alleged return to golf, Bay Hill is a short drive from Tiger's home and he has been a six-time winner on that course (including being the defending champion).