Lady golfers have a fresh new alternative for purchasing golf apparel that's hip, fashionable AND can be proudly worn on and off-course now that the Golf4Her webtique is open for business.  The online boutique, located at www.golf4her.com, is a one stop shop for basic golf essentials (tops, bottoms, outerwear, accessories) and exclusive trendy items that turn over often.
Owner Christina Thompson, an avid golfer, told GolfCrunch the idea for Golf4Her came as frustrations mounted trying to find fitted clothes that were fun, modern and made for the athletic lady golfer.
Taking a "golf as a lifestyle" approach, she spent five years doing research before setting up shop.  In that time, she built relationships with nearly two dozen American and international designers — many that were either too small for big box retailers or too edgy.
Ms. Thompson pointed out some of her favorite discoveries: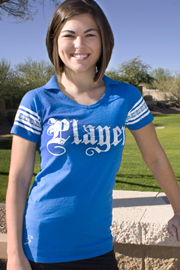 She likes Lija because of the fabrics, the color palette and the fact that the cut is phenomenal.
Abacus outfitted the 2009 European Solheim Cup Team.  She pointed out the Abacus Fortrose Skort-Navy as one of her favorites.  It features two pockets to carry extra tees or the occasional provisional ball.
The also site features some interesting looking bags and gear.  For example, there are all kinds of designer golf ball holders from Ame & Lulu.  That same designer has a collection of signature shoe bags.
One feature that's helpful is the "Fashion Caddy" that removes the guesswork out of pairing up tops and bottoms for the perfect look.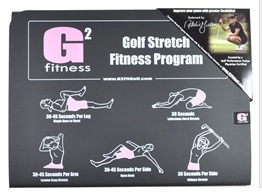 Taking a holistic approach to golf, Ms. Thompson has added a Fitness section to the site which features a number of nutrition and exercise-related items. One product she pointed out was the  G2 Fitness Golf Stretch Fitness Mat.  Endorsed by top-ranked LPGA player Natalie Gulbis, the emphasis is on stretches that help maximize swing speed and stability, improve range of motion and flexibility, and reduce risk of injury.
Final Thoughts: The Golf4Her webtique is what lady golfers have been seeking for years.  Fashion forward and functional, it will also find fans among those on the fringe of the game, for daily wear.
It is nice to know that Ms. Thompson plans on carrying a steady stream of refreshing new designs and that she is emphasizing customer service — making it a sort of Nordstom for lady golfers.  Adding it all up, Golf4Her is a "must visit" early and often.
Note: As part of the grand opening, Golf4Her has a promo for a discount on the first purchase (Use code:  Launch10).
###