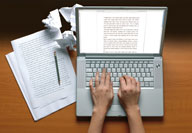 If you love writing as much as you love the game of golf, GolfCrunch may have an opportunity here you'll want to apply for. At the moment, we're actively looking for passionate (and dedicated) editors to join our team.
All editors at GolfCrunch enjoy the following benefits:
Access to golf clubs and equipment for review and testing
Insider access to special deals and prices from manufacturers
Exposure of your work to a worldwide golfing audience
The pleasure of working for a fun and dynamic team of golf nuts!
If you have the time to contribute a daily article… that's a good start, and a good sign. In addition, if you've always wanted to connect with the golf world in some way, shape or form, this could be your chance. Again, drop us a line at info@golfcrunch.com. We want to hear from you!