The recently concluded Heritage Classic was the last one with Verizon as the title sponsor.  The company decided not to renew its contract.  No immediate worries though.  The show will go on in 2011.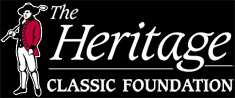 The Heritage Classic Foundation has will cover the roughly $8 million it will take to put on the tournament in 2011.  They have some backup too — in the form of a $10 million loan that was approved by South Carolina's Legislature.  According to statistics, 48 percent of spectators attend for four or more days, so it is understandable why they got involved.  The money would come out of the state's insurance reserve fund.
Five-time Heritage winner Davis Love III, along with several PGA Tour pros with ties to South Carolina and the Heritage, have stepped forward to help.
Charles Warren, a former Clemson golfer and Columbia native who received a sponsor's exemption to play in this year's tournament told John Boyette of The Augusta Chronicle:
"A great purse, one of the best golf courses, a great field and you've got a great date the week after the Masters. If you were to tell any other tournament they could have that, it's the perfect storm for a great event. I just think someone's going to see the value in that and the future's got to look great for this tournament. It's got so much to offer."
Many Tour Pros and spectators would agree.
[Via: The Augusta Chronicle]