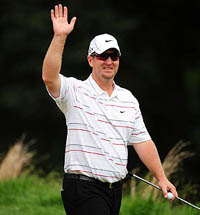 Yeah, you heard me. I miss the old David Duval. The one that won 12 PGA titles and 1 major championship (2001 British Open). The thing is, while I MISS the old David Duval I LIKE the NEW David Duval much more.
Sure, he's not winning like he used to, heck, is just trying as hard as he can to stick around on tour. But he seems grounded, humbled and most importantly you can really tell that beneath it all he's always been a nice guy. When David was #1 in the world he was stoic, a rock of confidence that didn't shed an ounce of emotion. That was his thing. He internalized and kept everything in-check to play his best.
After his fall from grace things have changed. If you watch him out on the course now you can almost 'feel' his effort. His desire to win. His emotions oozing out of him and his absolute desire to get back the game he lost.
Don't get me wrong, I think David knows if he can't work his way back to the game that put him on top of the world, the game that garnered a British Open title and even an amazing 59… He'll be OK with it. Maybe that's another thing I appreciate about the guy these days too. There seems to be that inner peace about him. And that's why I'm pulling for him so much. The former #1 is now the underdog. He's trailing by 4 with 9 holes to go. Can he do it? I don't know, but I'm pulling for him.