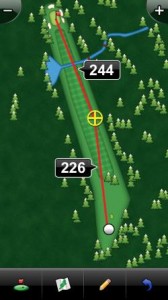 L1 Technologies, parent company of the iGolf brand, has just announced the release of iGolf Mobile for Android. This FREE app includes professionally mapped GPS data and course listings for more than 33,000 golf courses worldwide. iGolf Mobile allows golfers to improve their scores by instantly finding accurate distances to key points on every hole for detailed shot planning and club selection.
Along with offering precise distance to the front, center, back of the green and custom points (bunkers, water, hazards) on mapped holes, golfers can also use the app to measure shot distance, keep score for up to four players and track handicap/statistics.
Access to the latest golf news and exclusive opinion articles, as well as independent course, equipment and travel destination reviews are available within iGolf Mobile. An interactive map of the first hole on every course, showing the distance to any point on the hole, is also included for free as a premium membership preview.
Golfers who upgrade to a Premium iGolf Membership (available for $5 monthly or $50 annual)  can access detailed, interactive hole maps with multi-level zoom.
iGolf Mobile is now available as a free download from the Android Market (search for "iGolf") or visit iGolf Mobile – Android for additional details.
Source: iGolf
###