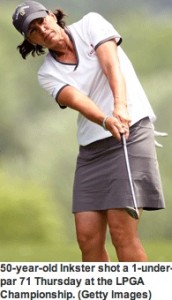 There were a couple of nice write-ups about Juli Inkster in honor of her 50th birthday.
Randall Mell of the Golf Channel wrote how Inkster reminded all her peers on her 50th birthday why she's still playing. She shot a 1-under-par 71 in the opening round of the LPGA Championship to move into contention to become the oldest winner of an LPGA event and oldest man or woman to win a major championship.  Noting that it is her 28th season on tour, and her 591st career LPGA start, Inkster still loves to compete.
A story by Golf Week beat reporter, Beth Ann Baldry included a list of the 50 reasons why Inkster is widely regarded as "the most fun and respected" players on the LPGA tour.  Some notables include:
It was the '08 Ginn Open and I was talking to her about how baggage costs were going up. She asked "What do you fly?" I told her economy. "That's your problem," she said. "Fly first class, play first class." – Katherine Hull
Won back-to-back LPGA Championships in 1999 and '00.
On Monday, she took her daughter and a friend to the Finger Lakes to go tubing and jet-skiing. She has no problem taking time away – Morgan Pressel
She doesn't act like she is 50 years old. She acts like she is one of us – Stacy Lewis
She probably was one of those people – besides Nancy Lopez – who was one of my idols – Cristie Kerr
LPGA Championship Presented by Wegmans is taking place at the Locust Hill Country Club, in Pittsford, New York (near Rochester) this weekend. There is a $2.25 million purse and a first-place check of $337,500.  If Inkster can win at 50, she would surpass Beth Daniel (46) as the oldest winner of an LPGA event, Fay Crocker (45) as the oldest winner of an LPGA major and Julius Boros (48) as the oldest man or woman to win a major.
###