Earlier this morning, Tiger took to the course with Fred Couples, and by the looks of things both players had a very enjoyable time. Both were spotted chatting frequently, many smiles were spotted… and in some shots posted at Trailing Tiger… we're starting to get a glimpse of what may be the 'New Tiger'. Take a look at the shot above. A smiling Woods, arm stretched out reaching to shake a patrons hand. Have we ever seen this before?…
…And another example. After hitting his approach shot to the 11th green, Tiger hopped the ropes and walked with the patrons.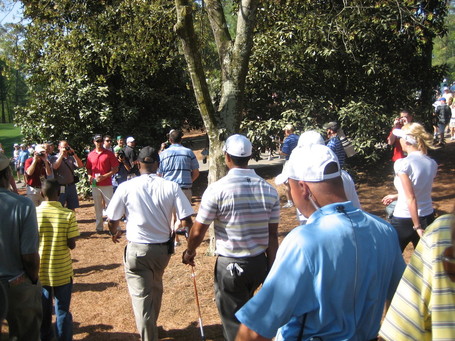 Who is this guy? As each passing day goes by we're getting a clearer picture of the 'New' Tiger… and I have to admit… I like him. As horrible as the past few months have been for Woods and his family, one has to think the change in demeanor and attitude may never have occurred if it weren't for his 'transgressions'. He's turning a negative into a positive as best he can, and you have to respect that.