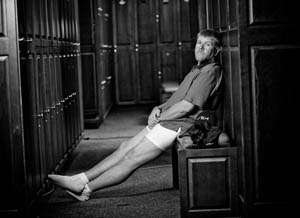 'Big JD' is no longer 'Big JD'. You know how I know this for certain? He's just been sponsored by an underwear company.
That's right, John has inked a deal with Slix, a company that offers shirts, underwear, socks and more… all along the way promising unmatched comfort and performance. Now, I'm not sure what I'm looking for when it comes to 'performance' underwear… I think my base criteria is that it stays covers what it needs to cover, and stays in place all day. That's not too much to ask, is it? 🙂
Regardless, as you can see in the shots I've included here, it looks like John has started a new career in underwear modeling. I bet he never thought in a million years he'd be doing something like this!
Congrats to John and Slix on the new partnership. Hopefully it'll be a comfortable and well-performing partnership for years to come.
For more information on Slix and what they have to offer, take a few moments and hit up getyourslixon.com.
Note: In case you haven't heard, we're running a contest with the help of John Daly as well. Check out the details right here. Comment or tweet about the contest, tell us which LOUDMOUTH pants you'd like to see John wear… and the winner will receive a pair of LOUDMOUTH pants, PLUS, John will wear the pair of your choosing at his next PGA Tour Event in Puerto Rico. For real! 🙂