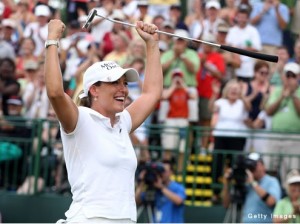 An impressive, runaway win at the LPGA Championship Presented by Wegmans this past weekend has garnered  Cristie Kerr of the U.S. the position of No. 1 in the world, based on the Rolex Rankings released Monday. She claimed the No. 1 spot for the first time in her career after winning her second major championship this season.
Kerr is the third player in as many weeks to hold the top position, following Jiyai Shin of South Korea and Ai Miyazato of Japan.
According to a write-up at LPGA.com, Kerr was an amateur prodigy who bypassed college to turn professional at the age of 18. She started her professional career on the Duramed FUTURES Tour in 1996 and was an LPGA rookie in 1997. A tough inaugural season sent Kerr back to the LPGA qualifying school in the fall of 1998 where she earned co-medalist honors with Se Ri Pak and exempt status for the 1998 season. It took Kerr nearly five more years to become a Rolex First-Time winner at the 2002 Longs Drugs Challenge. She next won the Takefuji Classic in 2004 and proceeded to win two more tournaments that year. Kerr has not had a season without a win since. She captured her first major championship title with a two-shot victory at the 2007 U.S. Women's Open at Pine Needles Country Club in Pinehurst, N.C.
The Golf Channel's Randall Mell wrote a story that talked about how,  Charlie De Lucca, the "Godfather of South Florida Golf," watched Kerr annihilate the competition when she was growing up in Miami.  As executive director of the Dade Amateur Golf Association, he marveled at the cold, ruthless little competitor who never seemed satisfied or content as she rose to No. 1 in the national junior rankings.
By the way, Kerr had rounds of 68-66-69-66 for a total of 269.  She finished 19 under par and was 12 strokes ahead of her nearest competitor, Song-Hee Kim (281).  Ai Miyazato, who Kerr replaced at the top of the rankings, finished tied for third with a 283.
Also, Kerr broke the record for the largest winning margin in LPGA Championship history and pulled in $337,500 for her effort.
Other notables include:


T19    Michelle Wie     (72-74-73-70) 289 +1
T34    Katherine Hull (74-73-76-68) 291 +3
T42    Paula Creamer (71-72-74-75) 292 +4
T62    Juli Inkster (71-74-77-74)    296 +8
An interview with Kerr can be found here.
###