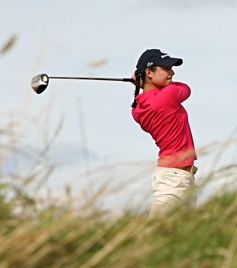 According to AP, Lorena Ochoa, the No. 1 player in women's golf the last three years, has just announced her retirement.  A post on her website said the following:
"Lorena Ochoa confirms her retirement from the LPGA, as news reports in some media have said today," her statement said. "The reasons and more details on the matter will be given by Lorena personally in a press conference on Friday in Mexico City. Lorena will share this news of a new stage in her life with her sponsors, family members and friends."
Ochoa married Andres Conesa, the chief executive of Aeromexico airline, in December.
Here's a link to her career highlights courtesy of Golf.com.
On the LPGA website, there is a clip of Ochoa talking about what she would do if she wasn't a professional golfer… Rumor is she wants to start a family, but the video does provide some insight into other activities she may want to pursue: