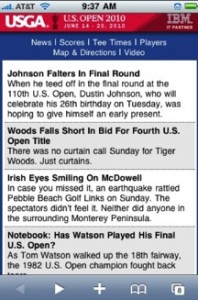 According to the United States Golf Association  (USGA), the 2010 U.S. Open Championship set new organization records for website and mobile device engagement by golf fans.
The USOPEN.com website, developed in conjunction with technology partner IBM, featured new apps, including an interactive play tracker and an enhanced course section that allowed fans to recreate historical shots in HD on their computers.
Overall fan visits to USOPEN.com during the week of the championship totaled 4.2 million, up 8 percent over the 2009 championship week.
The play tracker engagement received 2.9 million downloads with more than 11 million interactions. It was the third successive year of strong traffic growth for the site.
A story at TechCrunch made special note of the mobile activity:
The USGA's Digital Media team recorded 1,711,156 visits to m.USOPEN.com during the championship, an increase of 518% over last year's mobile site.
Nearly 30 percent of traffic to the U.S. Open site was from mobile devices.
Alex Withers, the USGA's managing director of digital media, noted, "We continued to see great engagement on the iPhone application that we launched last year, and adding live video streaming across all video-enabled mobile browsers created a huge volume of fans following the championship via mobile devices."  He also noted how the "HD live streaming of marquee groups and feature holes (Nos. 7 and 17) across multiple interactive platforms brought fans closer than ever to the on-site excitement of a U.S. Open."
###