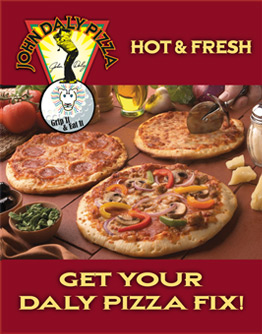 If this story had hit on Thursday (April Fools' Day), I would have chuckled and said, "Good one!"  But the press release came out on St. Patrick's Day.  Hmmm…
Apparently Perky's Foodservice Concepts, Inc. has teamed up with pro golfer John Daly to launch the John Daly Pizza Program. From the looks of it, it is a turnkey operation that can be implemented at golf courses and other venues.  For sure, it provides a nice alternative to normal golf course fare — hot dogs, chips, burgers, etc.
The program is focused on a revenue-generating compact pizzeria which was developed and perfected by Perky's Foodservice Concepts.  The company has a 23-year history in the "business within a business" model.
Daly is a recognizable brand.  In the announcement, he states:
"My pizza is a 350 yard drive down the middle! The quality and taste of my pizza will exceed your expectations, and it all starts with the finest ingredients available.  Grip It and Eat It!"
You can learn more at:  www.johndalypizza.com.
If you go to the equipment page, it says to contact john AT johndalypizza.com.  Not too sure if that's indicative of Daly's hands on approach to the business or if it is a coincidence.