"I'll never watch the Open the same way again," Wahlberg said afterward. "And this is not even Open-ready yet – the rough is going to be longer and the fairways are going to be harder. … Hey, I love the game, and I'll always enjoy it. But if I had to do it for a living, I'd slit my wrists."
Actor Mark Wahlberg was reacting to his experience on Wednesday at the Pebble Beach Golf Links where he played in the Third Annual Golf Digest U.S. Open Challenge with hockey great Wayne Gretzky,  Super Bowl-winning quarterback Drew Brees, and essay contest winner, Peggy Ference from New Jersey.
The challenge, a made-for-TV event,  was born from a quote by Tiger Woods during the 2007 U.S. Open, when he said a 10-handicap couldn't break 100 on such a tough setup.
Wahlberg was the only player in the foursome to break 100, making a par on the last hole to shoot 97.  Gretzky made a triple-bogey on the final hole to shoot 100, and Brees finished at 102.
Ference, who was playing from the championship tees, struggled to reach many of the fairways.  She ended up shooting 118.  The 7,040-yard layout was deemed a par 78 for her.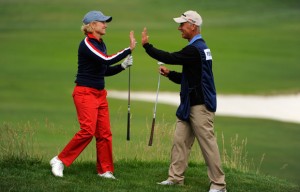 The conditions were calm for most of the front nine until the foursome turned inland, when gusts of 25 mph blew in the players' face.
"This was really about the game of golf and how anybody can play it from any set of tees in any conditions," Ference said. "I have so much appreciation for what the PGA Tour players encounter, not just in the U.S. Open, but regular tournaments too."
Brees remarked, "Golf is the only sport where you have a lot of time to think about your shot. You stare at your ball, walking around and lining up and you start thinking, 'I've got water on the right, out of bounds on the left, high grass here.' You start thinking about all these problems, so you have to be very strong mentally. That's why I can really appreciate the mental toughness of these guys."
Pebble Beach Golf Links will host the 2010 U.S. Open June 17-20. Designed by Jack Neville and Douglas Grant, it opened in 1919, Pebble Beach has hosted 10 previous USGA championships, including four U.S. Opens.  Each of those Opens was won by one of the game's great players – Jack Nicklaus in 1972, Tom Watson in 1982, Tom Kite in 1992, and Tiger Woods in 2000.
###
Note:  Source for this story include  AP , the San Francisco Chronicle and Golf Digest (also credited for the picture).