At the Memorial Tournament,  which was won by Justin Rose with a flawless final round (he overcame a four-shot deficit and had one-putt greens on eight consecutive holes Sunday to close with a 6-under 66), there was a bit of off course play by some notable Tour members.
Phil Mickelson hit a terrible drive on the 15th that ended up far, far to the left into a creek that usually doesn't come into play.  Instead of going back to the tee, he opted to take a one-shot penalty — playing his ball from a drop from the middle of the cart path on the 17th hole.
The drop was fraught with problems.  Both times his ball bounded down into the weeds, unplayable.  Per the rules, at that point, he is allowed to place the ball at the site of the drop, in this case in the middle of the blacktop.
Playing like he's used to hitting off paved surface, Mickelson pulled out a 3 wood and cleanly picked the ball off the cart path, hitting a high draw that left him near the tee at the par-3 16th hole.  If only the rest of the course was through streets and parking lots, he would have won and claimed #1 position going into the U.S. Open.
Instead, Mickelson ended up three-putting for a double-bogey 7.  For the tournament, where he finished tied for 5th, putting was a challenge (he took 30 on his way to a 69).
Another golfer who spent time off-course was Tiger Woods.  He ended up hitting not one, not two, but three fans on three different holes.
According to an AP story appearing at Golfweek.com
"On his first swing on the first hole, Woods pulled his drive left and drilled 37-year-old Jeramy May in the neck. "I'm just glad they were on the other side," May said, pointing toward his daughter and a friend.
On the second hole, Woods hit 19-year-old Alan Flood in the back of his left leg as he was standing far left of the fairway. Then at the 15th hole, Jimmy Craig of suburban Columbus was in the right rough when Woods' drive hit him in the thumb and then the side."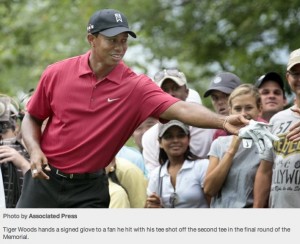 Tiger's way of making it up to the people he hits is to give them an autographed golf glove.
On Sunday he remarked, "Thank God I get them for free."
Errant shots at Pebble Beach in a few weeks may end up plunking an otter or sea lion.
Spare gloves won't be an issue.  Extra sleeves of balls will.
###