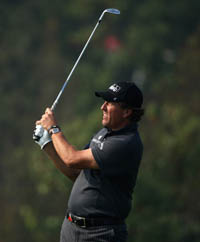 Sure, Phil Mickelson's second shot at 13 was probably one of the most amazing shots I've ever witnessed. He hit his tee shot through the fairway on the right, leaving him a 205 (or so) yard shot into the green for his second, from the pine straw, between two trees (not very much room). The 'safe' play would be to pitch the ball out into the fairway to a spot where a full wedge could be thrown at the green… But no, that's not Phil's style is it?
He gripped a 6-iron and let it rip. The ball flew clear through the trees, carried the creek by about 10 feet, and snuggled up to 3 feet from the cup. Brilliant. The fact that Mickelson missed the putt for eagle was surely disappointing, but Phil had still done what he needed to do. Birdie the par 5. One more par 5 was coming up at 15, and he would go on to birdie that one too.
Looking back at the shot, it was amazing… but things could have went horribly wrong. The pine straw is never easy to hit from. He could have hit it heavy and dumped the ball in the creek. The two trees he was attempting to hit between were awfully close. He could have banked the ball off one of the trunks, leaving him who knows where. The fact of the matter is, this could have been another 'I'm so stupid' moment for Phil… But he managed to pull this one off.
At the press conference afterward Phil was asked: 'Phil, what's the difference between a great shot and a good shot?'.. He answered: 'A great shot is when you pull it off… A good shot is when you don't have the guts to take it on…'
Great shot, Phil… great shot.