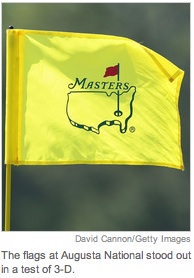 The New York Times is reporting that test footage shot recently at Augusta National to demonstrate 3-D looks pretty darn good.  Richard Sandomir wrote, "One look at Augusta in 3-D will make high-definition seem obsolete."
Too bad many of us don't own the equipment to see it for ourselves.  Anyway, the article describes what works and what doesn't.  On the plus side:
putts moving toward a camera;
a chip shot flying out of a bunker with the individual grains of sand moving into a new dimension in front of the golfer;
yellow flags fluttering at the hole in the foreground while water courses through a creek in the background;
the slow panning of the most topographically interesting holes to show the changing elevations.
Sandomir  remarked, "The closer the cameras get to the action, the better the picture. It may be too much to expect the 3-D cameras to get close enough for a driver to look as if it is coming through the screen."
As for flaws:
When the sun glinted off water, the picture blurred.
When trees or bushes came into view too quickly, it was visually jarring.
When a camera panned the grass too rapidly, the effect was dizzying.
Seems to me that if this experiment works, golf clubs may have a new potential revenue stream — hosting viewing parties.