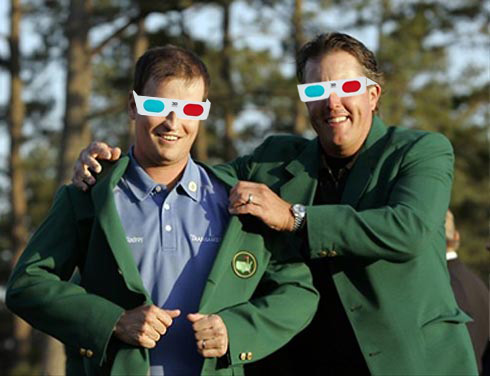 Another day, another 3D announcement.  This time, it came from an unlikely source — Augusta National Golf Club and Masters Tournament Chairman Billy Payne.  They just issued a press release stating that the 2010 Masters will be produced and broadcast live in 3D.
"This innovative step forward, the first of its kind in golf, will include multiple 3D cameras placed strategically throughout the course resulting in perspectives never before seen of Augusta National."
Sony, IBM and Comcast on board.
Sony Electronics will support the golf effort not only as a sponsor of the 3D Masters telecast, but will showcase the latest advances in professional camera equipment and its 3D-capable televisions. Comcast will join in the production effort and provide the distribution channels necessary to deliver the content free to its households throughout the U.S. Additionally, Comcast and IBM, the tournament's technology partner, will combine efforts to offer the 3D feed via www.masters.com.
There will be two hours of live afternoon 3D coverage each day starting with  the Par 3 Contest scheduled for April 7.