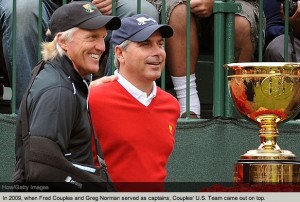 Earlier this week, it was announced that Fred Couples and Greg Norman would be returning as captains of the U.S. and International Teams, respectively, for The Presidents Cup 2011 in Melbourne, Victoria, Australia, at Royal Melbourne Golf Club — site of the 1998 event. Couples, who is competing in this week's PGA TOUR event, joined PGA TOUR Commissioner Tim Finchem in the media center for the announcement, while Norman joined via teleconference from Europe.
"There could be no better choices to serve as captains of The Presidents Cup 2011 than Fred Couples and Greg Norman," said Finchem. "Fred and Greg bring not only their extensive experience as Presidents Cup participants to the table, but also what they learned in 2009 as captains. They stepped into their roles last year with a strong passion and commitment to elevating this international competition and handled their responsibilities with ease. I am confident they will once again showcase the incredible sportsmanship, leadership and camaraderie that is the hallmark of The Presidents Cup."
The Presidents Cup 2011 is scheduled for November 14-20, 2011. The Americans currently hold an all-time 6-1-1 lead in the competition.