Well what do we have here. We all know Tiger has been hard at work, on the course and on the range getting ready with the one-and-only Hank Haney… But due to the seclusion of the settings Woods' generally frequents, we haven't seen much (or anything) in the way of video proof. Cue the folks at TMZ *sigh*.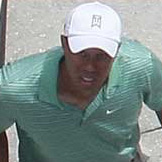 Yes, sadly TMZ has managed to shoot a video of Tiger prepping for the masters at Isleworth with Hank Haney close by to provide guidance and advice. I can't imagine how the cameraman got into the situation, and I shudder to think where he was hiding to get the video. Regardless, it's great to see Tiger on the tee, and from what I can see, he looks loose and the swing is shaping up.
I hope the folks at Augusta National are going to have security setup on a tight perimeter of the course. Otherwise we may see more videos like this taken from the bushes…practice rounds perhaps?
Good grief.