I think The Masters fever has officially hit. As each passing day goes by, I find myself thinking more and more about the event, one that I hold dear to my heart for so many reasons. During Masters week I'll be doing nothing else but taking in the golf, making commentary and (hopefully) providing you all with great reads every day on the goings on at Augusta. To get started, I thought it would be fun to jot down my Top 5 picks to win the 2010 Masters. Read on to discover who I've picked, and why.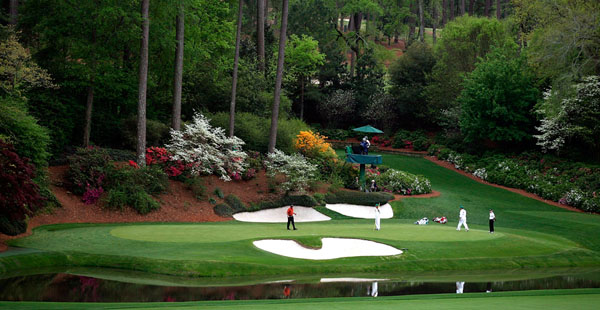 1. Ernie Els
No one is striking the ball better than Ernie Els these days. Having come off back-to-back wins, Ernie is in top form and heading into The Masters he's playing some world-class golf. A new putting stance and setup has proven beneficial, as he looks more comfortable and relaxed over the ball, and the results on the green speak for themself. In the 2010 season thus far, he's played 7 events, and won 2 of them. He's up to 7th in the official world golf rankings, and 1st in Fedex Cup points. Perhaps the key stat on his work so far this year is his scoring average. He's ranked 1st at 68.88. If he can manage to plot around Augusta National with a handful of 68's, me thinks the 'Big Easy' will be looking just fine come Sunday afternoon.

2. Fred Couples
'Freddy' has seen a resurgance in his game this year. Perhaps it's due to the fact that he's a rookie on the Champions Tour… He's back with a bunch of his buddies, and when you look at things from afar, he's the new guy, the young guy… the guy that can bomb it down the middle and hit that short spinning wedge into the green while some of the others are hitting mid-irons to the same target. Sure, the PGA Tour is a different cup of tea altogether, but Fred is a Masters champion, and he knows how to play the course. He knows how to handle the pressure, and most importantly, he knows how to win. With his recent successes on the Champions Tour look for Fred to come into the Masters with a raised level of confidence. Freddy could be this years Tom Watson… Watson almost got it done at the British last year… there's no reason Freddy can't do the same.

3. Steve Stricker
One of the best putters on tour for many years now, Steve Stricker should very well be a force to reckon with if he's able to stick to his game plan. A native of Edgerton, Wisconsin, Stricker has been hard at work on the course for many years now… In fact, I recall following Steve years and years ago on the Canadian Tour. Followed him around for 18 at the Pine Ridge club just outside of Winnipeg, Manitoba Canada. He was great then, and he's even better now. Stricker is sitting in 2nd place in the Official World Golf Rankings AND Fedex Cup points, but most importantly he's ranked 23rd in putting average and 7th in putts per round. If Steve can keep his head and sink those tricky 5 to 10 footers around Augusta National… look for him to raise that 'White Hot' Odyssey putter in victory on the 18th on Sunday.

4. Ian Poulter
Looking cool on the course isn't the only thing Ian Poulter is good at. These days he's backing up the dress with solid results. Earlier this year Poulter took down the Accenture Match Play Championship with some solid ball striking. While not a stroke play event, his efforts were duly noted by the golf world, letting all know that he could very well be among the money leaders for the 2010 season. Ranked 8th in the world, 24th in putting average and 13th in putts per round, Poulter looks to be on the cusp of some bigger things this year. One of the more important stats, putting from inside 5 feet… Pouter ranks second, where he holes over 99% of his putts. Impressive. If he can keep the ball in the short grass, and get the putter working from 5 feet and out (stats not as impressive outside of 5 feet), you never know… The Englishman could pull it off.

5. Tiger Woods
You simply can't count out the world's #1. To do so would be foolish. Sure, he's got a lot going against him. Personal turmoil has turned his world upside down. His marriage is in shambles… and on top of that he hasn't hit a single shot on the 2010 PGA tour to date. That said, for the past few weeks Woods has been spotted practicing like a madman at his home in Isleworth, and he has been spending more and more time at Augusta National prepping for the event. Woods has won The Masters 4 times (1997, 2001, 2002 and 2005), and to write him off could be a mistake. If he can grind it out and make the cut… Look for Woods to go low over the weekend.
Note: If you're eager to hear more from Tiger Woods, he's going to be the first to speak at Augusta, slated for the first press conference on April 5th.

Sleeper Pick: Retief Goosen
The goose is loose. At least that's what it seems like so far in 2010. Having gained back some fine form so far this year, Goosen is up to 12th on the official money list, and has posted 5 top 10's out of 7 events played thus far. Not too shabby wouldn't you say? Goosen is a proven major performer, having won the US Open in 2001 and 2004. His recent return-to-form makes him a solid sleeper pick for this years Masters. If he can keep his driver in play (currently ranked 48th in driving accuracy) and hole some putts (ranked 37th in putting) we could see the Goose in the butler cabin with the green jacket planted firmly on his shoulders.
So, what do you think of my picks? Agree? Disagree? Let me know in the comments!