The low scores at Augusta made many headlines yesterday. By the players' admission, the scoring was in large part due to the generous pin placements… placements that were probably among the most generous offered up in years. Today, expect slightly 'milder' scoring, as a number of pin positions have been tightened up, forcing player to play for safe instead of hunting for the pin. Here are a few notable pins to watch for:
No. 1: Tucked in the left corner, 15 feet deep and 5 feet from left edge
No. 5: Toward the back left, 22 feet deep and 9 feet from left edge
No. 8: Back right, 36 feet deep and five feet from right edge
No. 14: Back left, 25 feet deep and seven feet from left edge
No. 15: Extreme left, 13 feet deep and five feet from left edge
No. 16: Tucked behind front bunker, 17 feet deep and 3 feet from right edge
No. 18: Back right, 29 feet deep and six feet from right edge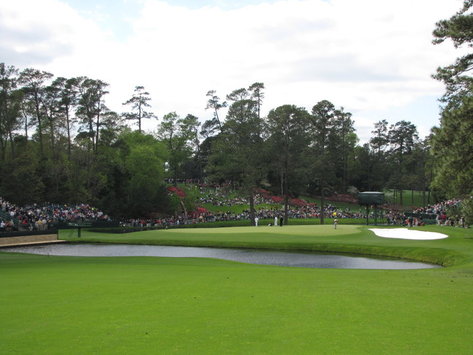 Number 1 yielded more birdies than usual yesterday… With today's placement look for the scoring average to shoot up above par. Number 8 and 15 were also offering up their fair share of birdies and eagles, but today I think we can expect more pars and birdies on the par 5's than anything else. Eagles will be harder to come by.
As the weekend draws near, it'll be fun to keep an eye on the course… Teeing positions will no doubt move back, pins will begin to find tucked-away places and hard-to-reach shelves, all in an effort to determine who is most 'Green Jacket Worthy'.
[Via: Augusta.com]