The USGA (as in United States Golf Association) put out an announcement on Monday that spelled out some of the ways fans can follow the action using "a variety of exciting technologies, digital applications and devices to access scoring, live streaming and the latest news from their home, office or virtually any location."
New to the U.S. Open website (www.USOPEN.com) this year is an interactive play tracker that expands and modernizes the traditional leaderboard and gives control to the user. This new feature includes an overview map that allows users to follow all groups on the course and a dynamic heat-mapping feature with red, gray and green color indicators to show how hard different parts of the course are playing during each round, using scoring averages on each hole.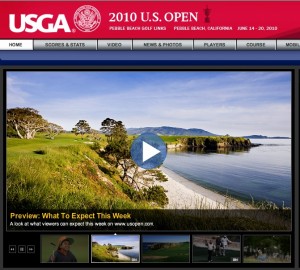 Other new features include:
An Enhanced Course Section that interactively presents the U.S. Open course setup at Pebble Beach through high-resolution images of each hole, flyover and course walkthrough videos
A new "Experience History" feature developed in association with World Golf Tour that allows fans to watch a video clip of a historical shot from a previous U.S. Open at Pebble Beach and then attempt to replicate it through an HD golf experience. For example, fans can watch and then play out Tom Watson's famous chip-in shot at the par-3 17th that propelled him to a two-stroke victory over Jack Nicklaus in the 1982 U.S. Open.
HD Live Streaming across devices, extending coverage to the iPhone and a wide range of other mobile browsers.
The "Rules Corner" where USGA Rules officials provide expert commentary on rulings pertaining to each day's action.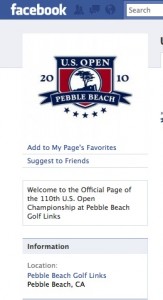 As for social networking, there is a Facebook page (www.facebook.com/USOPEN) and there will be Twitter feeds from fans on the course via the American Express Experience Tent.
Clearly, this will be he most connected U.S. Open yet.
###
U.S. Open Championship will be taking place Thursday June 17 – Sunday June 20) at the Pebble Beach Golf Links.