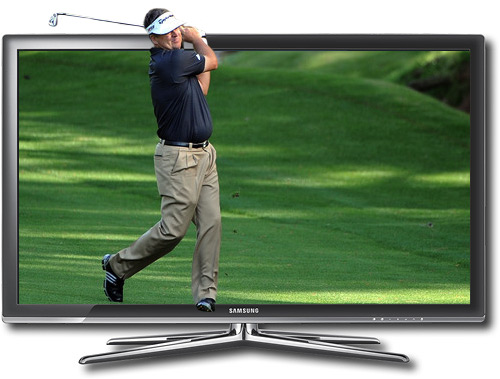 Chances are you've heard that Comcast is broadcasting The Masters in 3D. Cool, for sure… but do you have the equipment and television necessary to enjoy the broadcast? Are you ready to view The Masters in full-out 3D? Keep reading to find out if you have the equipment you need.
Comcast has designs on outputting a side-by-side 1080i MPEG-2 transmission. If this doesn't mean anything to you, no worries, it means nothing to me either. The quick translation is Comcast's HD set-top boxes connected through HDMI are already more than capable of handling the signal. So, if you already have the box, it's time to load up on a 3D HDTV
Quite honestly, the pricing isn't as expensive as you'd think. I recently popped over to Best Buy to check them out, and Samsung seems to be the brand of choice, with their 46″ and 55″ 3D HDTV's both readily available. These 3D HDTV's are 1080p, run at 240Hz, and will set you back $2,339.99 for the 46″ model, and $2969.99 for the 55″. Not bad at all.
I've included the product links below from Best Buy. Check 'em out, and if you're willing to drop a few grand, it COULD be worth it! (really, the price isn't that much more than similar non-3D LED and LCD televisions!)
What are your thoughts? Too expensive? Or perhaps you just don't care? Will plain 'old' 2D do you just fine?
Note: For the 3D HDTVs above, the 3D glasses are not included… You'll need to purchase those separately.