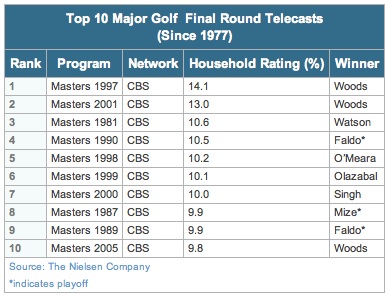 The folks at PGATour.com did a post that proposed six reasons why Tiger returning for The Masters makes sense.  Not that the listing is in any particular order, but the first one happens to be "Controlled Environment."  We all know Tiger likes control.
Reason 5, "Competing Storyline" makes a good point.  The Masters event is the first "major" of the year.  According to Nielsen, when comparing TV ratings for the final rounds of golf's four major tournaments since 1977, they found that the top ten telecasts were all from the Masters.
Clearly, with or without Tiger, The Masters tournament itself is an attention getter.  We already noted that The Masters will be available in 3-D, which is a storyline too.  No doubt, Tiger will be the main attraction this year, but he won't be the only story.
As for six reasons CBS and ESPN should be ecstatic about Tiger's return (ESPN will air the first two rounds while CBS will broadcast the final two round), check these numbers from a Nielsen Wire post that appeared in February 2009:
The Nielsen Company compared the network TV ratings for the 3rd and 4th rounds of golf tournaments played by Woods after the U.S. Open in 2007 with those same tournaments he missed in 2008 due to a season-ending knee injury. And the results are just what you might expect: Tiger's absence almost singlehandedly sliced tour ratings in half.
For the broadcasters, and let's include the Golf Channel in that mix, all six reasons have to do with dollar bills (perhaps "pots of gold").