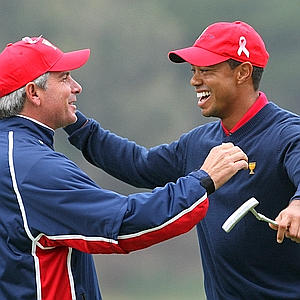 The press conferences are set, and we know Tiger is going to speak on Monday, April 5th at 2PM EST. Good stuff. But I know you've all been wondering, who and when is he going to play practice rounds with? Sure, he's already been on the course getting ready this past week, but I'm talking about 'official' practice rounds here.
The latest on the topic comes from the Golf Channel. Fred Couples let TGC know that he and Tiger Woods will play 18 on the Monday of Masters week, the same day Tiger takes to the press conference podium. Should be an interesting pairing. Freddy has been through a lot in his own personal life, and heck, he's won a green jacket of his own… I wouldn't be surprised if Couples requested to play with Tiger, seems to me he may have some wisdom or helpful advice to pass on to the world's #1.
Whatever happens, hopefully we'll get a little insight into the practice round from Tiger when he sits down with the media.
[Via: TrailingTiger]