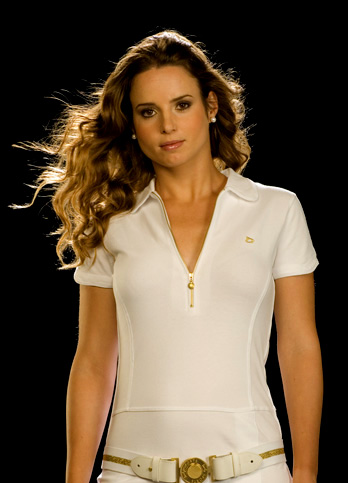 The other day, I was contacted via Twitter by a new up-and-coming LPGA player. The Spanish-born player in question, Beatriz Recari, was busy doing some promo for a 'Mojo 6' competition she was trying her best to get into. I won't bore you with the details of that right here, after all, you probably want to know a little more about her first, right? So who is this newly carded LPGA player Beatriz Recari, anyway? Here's a little bio from her official site:
Beatriz was born in Pamplona, on the 21st April of 1987. During her first years, she spent a lot of time with her grandmother (her mum's mum), who gave her, as well as her parents, strong values such as religion, family values and a hard discipline. That's why, since the beginning, she demanded herself the best out of her studies and everything she did.

At the age of 9, she began with her piano lessons, which 2 years later, would change for the golf clubs. When she asked for permission to her parents to do so, they accepted it, but only under one condition: "when it's raining on Saturday or Sunday, and it's extremely cold, we are going too". And Beatriz agreed on that. For the next years coming up, she successfully combined both studies at school (SagradoCorazon till the age of 16 and CarmelitasVedruna from 16 till 18) and her golfing career. Traveling to the tournaments with all the books and studying in airport's tables became a routine. During those times, Beatriz won successful tournaments such as Copa de la Reina in 2004, Coupe d'Esmond 2005, part of Junior Solheim Cup team in 2005, among others. After playing her last tournament before staring her Economics degree at Universidad de Navarra in Spain, she thought it was the righ time to have another great challenge, and that was turning professional while studying at Uni. It implied an enormous effort to play consistently on the Ladies European Tour (with a full card), and pass all her exams at the same time, but the final result was exceptional, with her keeping her full card after the season, and finishing her first year of Economics. The only bad memory she might have is the amount of Red Bull and dark coffee she drunk to stay awake all those nights.

Since then, she decided to focus on her golf and bring about all her talent on the course to achieve her professional goals. Beatriz keeps on improving herself season after season (check for her best highlights in her "performances archive") and we believe we will update that archive with a win very shortly.
Beatriz loves golf (of course), tennis, basketball, music, reading and movies. Obviously golf is her main focus these days, but it's always cool to see a diverse range of interests.
At only 22 years old, it looks like Beatriz has a very promising career ahead of her. Everyone here at GolfCrunch wishes her the best as she embarks on this new chapter on her life. Hopefully it's full of straight drives, birdie putts, championship titles… and… heck, lots of money 🙂