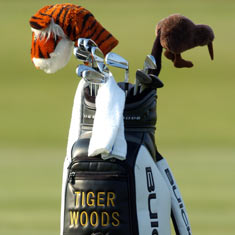 Unless you're half-dead, or have somehow avoided all forms of media and human contact today, you've heard the news that Tiger Woods is all set to return at The Masters this April. Personally, this is going to make my favorite tournament of the year even better. It's going to be a spectacle… Probably, the most watched golf tournament in history… And can you imagine if he goes on to win? Ohhhhh baby!
Getting back to the point of this post, Tiger's caddie 'Stevie' Williams will no doubt be back and on the bag all week long at The Masters. But what we're curious about here is Tigers actual bag. What sponsor will we see on it? Accenture, AT&T, Gillette, Tag Heuer, Pepsico and Gatorade have all either taken a step back, or given him the boot completely. This leaves (to the best of my knowledge) Nike, Electronics Arts, GolfDigest and NetJets as major sponsors that may (or may not) want a piece of Tiger's bag (OK, that sounds awful). Perhaps Tiger's own Foundation will be embroidered into the bag?
What do you think? Vote below, and if you think someone else is going to step up to that coveted bag sponsorship, let us know about it in the comments!

Loading ...