It's no secret that Ryan Moore is one of our favorite golfers on the Tour.  His second place finish at the AT&T National was incredible.  Other "seconds" for Moore were where he placed in putting average and putts per round for the tournament and where he came in with total birdies.
Again, he defied common wisdom — this time by picking up a brand new putter on Tuesday, playing with it on Wednesday in a Pro-AM and then keeping it in his bag for all four rounds of the AT&T.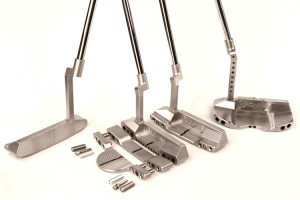 The club was a Custom MACHINE Putter by Dogleg Right Corporation.  The Custom TIG Welded Center Shaft putter that the he picked up from Dogleg Right's Tour Rep, Ken McDonald, features a CNC milled hosel that is TIG-welded to a custom milled micro pocket in the putter head's topline to create a Center Shafted setup, which is very easy for players to line up and stroke confidently.
The putter also features an interchangeable flange system (and therefore the Converter name) to allow the user to change the shape, weight, balance and MOI of the putter.  With its separate adjustable weighting system, players have the option of dialing in their ideal weight, up to 28 grams in as little as 1-gram increments.
The face of the putter has a unique VMG (Vertical Mill Groove) face mill pattern that helps produce a true forward roll, improved alignment optics and a soft yet solid and responsive feel.
There was no indication of how much fine-tuning Moore did with his putter.
In the post tournament press conference, Moore talked about his new putter, saying, "Something about the alignment of it, it's just helping me see my lines a lot better."
Note:  Moore was under no obligation to use the putter.



Suggested retail price: Custom MACHINE M2A Converter Putter with TIG Welded Center Shaft in 303 Stainless Steel starts at: $399.99.  MACHINE putters by Dogleg Right are sold through the company's exclusive network of Authorized Fitters and Retailers as well as online through its website and golf forums such as Golfwrx.com and Puttertalk.com that it participates in.
For more information, go to Dogleg Right's website.
###