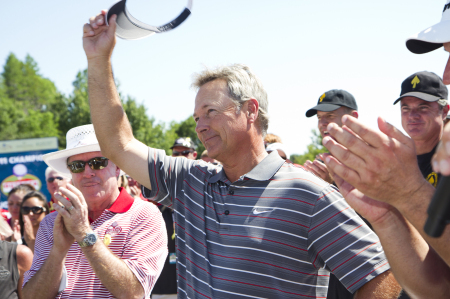 It's been quite an amazing run for our friends at Nike Golf lately. First, Charl Schwartzel takes down The Masters title… then over this past weekend John Cook follows suit with his second title on the 2011 Champions Tour. Not too shabby!
With his win on the weekend, Cook has vaulted to second on the 2011 Champions Tour money list… but getting to the point of this post is the clubs Mr. Cook used to secure the victory.
Here's a quick look into his bag:
Driver: Nike VR 8.5-degree
Irons: Nike VR Pro Blades (3-PW)
Hybrids: Nike VR 18-degree
Wedges: Nike VR 53-degree and Nike VR 59-degree
Putter: Nike Method Prototype
Ball: Nike ONE Tour
Apparel: Nike Golf Tour Collection
Footwear: Nike Trophy
A very solid lineup indeed. Nike Golf was kind enough to send us a 'care package' of many of the hot clubs rounding out their 2011 lineup… So stay tuned for a closer look at some of the clubs Cook used to march his way to victory.
Image courtesy: James Branaman – St. Petersburg Times