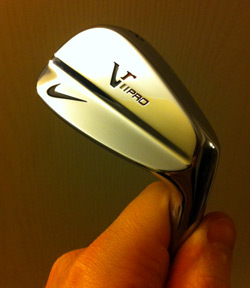 You know when you put a new club in your hands, strike that first shot, and go 'woah, baby that's a sweet club'… That's exactly what happened to me when I struck the Nike Golf Victory Red Pro Blade irons for the first time. In fact, after my first shot, I flipped the club around, took a closer look at the clubhead, and thought 'I'm really going to like these'… and I did!
Not only do the VR Pro Blades look great, but they're insanely consistent, and provide incredible feedback for those that love to shape their shots. For my thoughts on this great set of irons for the lower handicap golfer… please, keep reading!
Low Trajectory
One of the things I dig the most about the VR Pro Blades is the trajectory you get off the face. This became obvious to me when I grabbed a VR Pro Combo 7 iron, and hit alternating shots between it an a VR Pro 8-iron I had handy. The Pro Combo 7 iron went MUCH higher than the VR Pro Blade 8 iron. Imagine that… the 8-iron actually flighted noticeably lower than the 7 iron from a comparable cavity-back set.
The trajectory is low and piercing… but not too low. I loved it because it was consistent… which leads me into my next point!
Consistent Distance Control
One thing that became quite apparent to me after striking my first bucket of balls was this… these irons were deadly consistent. Using the trusty 8-iron as my example (again), I decided to throw down 10 balls and measure the distances. Here's the spread:
Shot 1: 155 yards
Shot 2: 156 yards
Shot 3: 155 yards
Shot 4: 154 yards
Shot 5: 156 yards
Shot 6: 155 yards
Shot 7: 155 yards
Shot 8: 156 yards
Shot 9: 155 yards
Shot 10: 155 yards
Not too shabby… drop the high and low result, and you end up with a spread of… well… about a yard! Awesome.
I know some of you might be saying, 'that's ridiculous, you're not a pro!'… and granted, I'm not. But I'm a decent golfer with a consistent swing, and I shoot in the 70's with regularity. The conditions on the day of this test were dead calm, and I was striping the shots right down the pipe one after another. The results speak for themselves… for accurate distance control, I HAVE to give the Nike Golf VR Pro Blades a 10 out of 10.
Solid Feel and Feedback
After striking a few shots (including a few bad ones), I came to realize how forgiving (yes, forgiving!) these blades actually are. I'm used to playing blades on a day-to-day basis (in fact, I have a set of Titleist 690.MB's in my bag right now), so I know a thing or to on what to expect when it comes to forgiveness. In comparison to my Titleists, the VR Pro Blades seem to provide a slightly larger sweet spot on the face. This is nice, because I found I didn't have to concentrate as hard to ensure I hit it exactly where I wanted in the middle of the face, on each shot… my swing began to flow with nice tempo, and…. well… I really enjoyed striking the ball with this set!
On top of that, the feel and feedback you get with each shot is awesome. At impact, there's no other way to describe the feeling you get, other than 'solid'. There's no vibration, no twisting, no anything… just a solid, pure feel with every strike.
Thin Top Line
I LOVE the thin top line on these clubs. I know this might seem like a minor point for many of you out there… but for those that prefer a great set of blades in the bag, the top line is a huge factor.
At setup, the clubs inspire confidence. They line up square, and just knowing you're going to get solid feel and feedback with your strike is huge.
Working the Ball
Like to fade and draw your iron shots into those tight pin locations? I'd highly recommend you give the Nike VR Pro Blades a try. Working the ball is easy. I'm not going to sit here and tell you how to hit a fade, or how to hit a draw… if you've gotten this far in the review you already know how to do that… 😛
But trust me, once you decide on the shot you want to hit, and line up to execute the shot… These irons are money in the bank. I prefer to hit fades myself, but I found hitting a slight draw time after time, after time… after time… was not a problem.
Stylish and Sexy
If there was an award for 'sexiest' irons, the Nike VR Pro blades would be a finalist, without a doubt. They're a modern take on a classic design, and look stylish in the bag. The numbering on the sole is clean, and the Nike logo on the muscle on the back of the clubhead is just downright nasty (in a good way).
I know in the end, how your clubs actually look has nothing to do with hitting the ball, or shooting low numbers. But if you get a kick out of the look of your clubs, surely that has to be worth a shot or two out on the course, right? Something along the lines of, 'look good, feel (and play) your best'? (sorry PING)
Pros
Ultra consistent trajectory and distance control
Solid feel and feedback on each shot
Become a real shotmaker. Work the ball left to right and right to left with ease
They look great (at address, and in the bag)
Cons
The price. For some, the $895.95 (retail 3-PW steel shaft) price on this set may be a bit too much. That said, all other iron sets in the same category are going to cost you roughly the same amount.
Conclusions
If you're a low-handicapper looking for a top of the line set to integrate into your game, the Nike VR Pro Blade irons are worth some serious consideration. Trust me when I say you're going to absolutely love the feel and consistency you get with these bad boys.
If you're a mid-handicap looking to improve your ball striking, and lower your scores, these may be worth a look as well. Granted, you may have a hard time if you've never hit a set of blades before… However, I firmly believe with a little bit of practice these irons could be a huge asset for your game.
High-handicappers, steer clear. That said, if you are looking for some Nike iron love, I'd recommend the Nike Pro Combo irons. The longer irons in this set feature a large cavity back… and as you work your way down to the short irons (scoring clubs), you'll find a more traditional blade style… the cavity gets smaller and smaller (and eventually disappears) as you work your way through the set.
For more information on the VR Pro Blade Irons (and all other irons offered by Nike), hit up Nike Golf.