You may have heard Jim Furyk overslept Wednesday after his cell phone alarm clock lost power overnight, causing him to be late for his pro-am tee time in The Barclays at the Ridgewood Country Club.  Under PGA Tour rules, that makes him ineligible for the tournament, the first of four FedEx Cup playoff events.
Per the story in The New York Times, Furyk, who is ranked third in the FedEx Cup standings, took responsibility for his cellphone calamity:
He said he set his cellphone's alarm clock Tuesday night, but somehow the phone's battery — which he thought he had charged fully — died overnight. He awoke at 7:23 a.m., seven minutes before his scheduled tee time, and threw on a shirt and pants.
Beltless, sockless, and with his shoes untied, Furyk rushed from his hotel to the course, but he was too late.
"I'm beside myself," he said, his shoes still untied. "I have a way of climbing into stupid situations."
On the Golf Channel, Furyk and Phil Mickelson weighed in with their take of the DQ rule.  Video (4:49)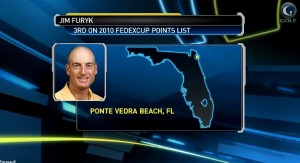 Mickelson pointed out that the rule only applied to "half the field" and that it was "ridiculous."
PowerMat seized the  opportunity. By noon on Thursday, a media alert crossed my desk with the subject:
Powermat: Because Waking Up Is the First Step to Winning the FedEx Cup
It referenced a CNBC report by Darren Rovell that said all Furyk really needed was a Powermat.  Per the alert, Powermat, the leader in wireless charging, is the fast, easy and hassle-free way to charge your cell phone while you sleep. Powermat simultaneously delivers real time, wireless charging to multiple electronic devices that have been enabled once with a Powermat receiver.  All you need to do before closing your eyes for the night is 'drop and charge.
Maybe Powermat will step up and be a title sponsor of future Pro-Am events.
###