TaylorMade has just unveiled the newest member of its Ghost family — the Ghost Spider Putter which combines which combines the head construction, size and high MOI of the Monza Spider with the white alignment benefits of the Corza Ghost.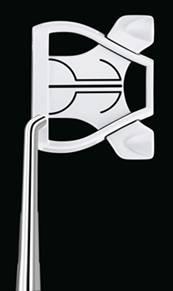 Like the original Corza Ghost and the entire TaylorMade Ghost series family, the Ghost Spider was developed with input from TaylorMade Tour Staff professional Dave Stockton. "We've never made a putter that combines this kind of forgiveness and ease of use. Putting is all about confidence, and the Ghost Spider promotes confidence, big time," said Stockton.
Sean Toulon, executive vice president of TaylorMade remarked, "Dave convinced us that the concept of a white-headed putter was a good one, and he was absolutely right. Dozens of tour pros are using TaylorMade Ghost putters." TaylorMade-adidas Golf Tour Staff professional Jason Day used a Ghost Spider prototype in his T2 finish at this year's Masters and U.S. Open, resulting in widespread consumer inquiries.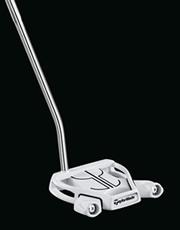 Benefits of White Alignment
The study of thousands of putting strokes using our proprietary MAT-T (Motion Analysis Technology by TaylorMade) System revealed that 65% of golfers fail to square the putter-face to the target from 12 feet, leading to inaccurate putts and higher scores. The Ghost Spider's white head contrasts sharply with the turf to make it dramatically easier to determine where the face is aimed. The Ghost Spider also incorporates the Monza Spider's acclaimed "basketball court" system of alignment on the crown to further facilitate proper alignment.
In addition, the Ghost Spider's white finish eliminates the distractions of glare and "hot spots" caused by reflected sunlight, making it easier for the player to focus his or her full attention on aiming the putter accurately and executing a sound stroke.
High MOI for Stability; Movable Weight Technology for Customization
Like the Monza Spider, the Ghost Spider incorporates the same innovative, steel wire-frame construction that concentrates most of the weight in the perimeter, which creates the high MOI that makes the putterhead so highly resistant to twisting on off-center hits. The Ghost Spider also shares the Monza Spider's Movable Weight Technology™ (MWT®), which allows the user to customize the feel by changing the weights to make the head heavier or lighter.
PURE ROLL Surlyn Insert
The Ghost Spider is equipped with TaylorMade's patented PURE ROLL insert, which promotes forwardspin to help reduce skidding to encourage a smooth, accurate roll and precise speed control. The PURE ROLL insert's soft Surlyn construction delivers a satisfyingly soft sound and feel at impact.
Availability and Pricing
The TaylorMade Ghost Spider is offered in single-bend and center-shafted models in the 33″, 34″ and 35″ stock lengths, left- and right-handed, at a street price of $179. A mid-length "belly" version is available in 41″ and 43″ stock lengths at a street price of $199. Get more information here.
###