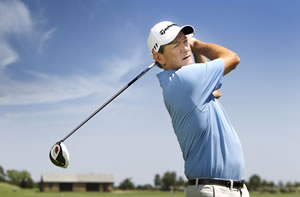 Who picks equipment over instruction? Legendary golf instructor Hank Haney recently revealed to Golf Digest that he would pick equipment. Haney who opened up his first golf instruction center in 1991 has been honored with numerous awards throughout his career. He is best known for his years spent as coach to Tiger Woods and over 200 touring professional from the PGA, LPGA, Champions, European, Japanese, Australian and Asian Tours. Or you might recognize him from his popular television series "The Haney Project" on The Golf Channel.
An interesting comment from a man who made it his life's work to help people learn to play golf. However in the article he commented "You're still playing a game where you're standing to the side of the ball and the ball's sitting on the ground and you turn your body and you swing your hands and arms." There are more knowledgeable golf instructors around the world today and with the help of technology they can even help remotely. Nevertheless, the fundamentals have not changed.
Where the true breakthroughs have been in equipment technology. The better the equipment gets the easier it is to break through golf's harsh learning curve. Take into account how much golf drivers have changed in the last 10 years. Everything has been tailored and improved. For example the TaylorMade R11 may make headlines because of its non-glare white finish but where it really shines is its adjustability. An adjustable sole adjusts the face angle of the club and it also offers you the ability to adjust the launch angle. Callaway created a new material for their latest driver. In a partnership with Lamborghini they created a material called forged composite, which is lighter and stronger than the traditional titanium used on golf clubheads.
A recent deal with TaylorMade is perhaps the reason behind this sudden statement. He will now be teaching with only TaylorMade equipment and wearing their logos on the course. Both Haney and TaylorMade are leaders in innovation for their industry, which will hopefully lead to a good partnership.