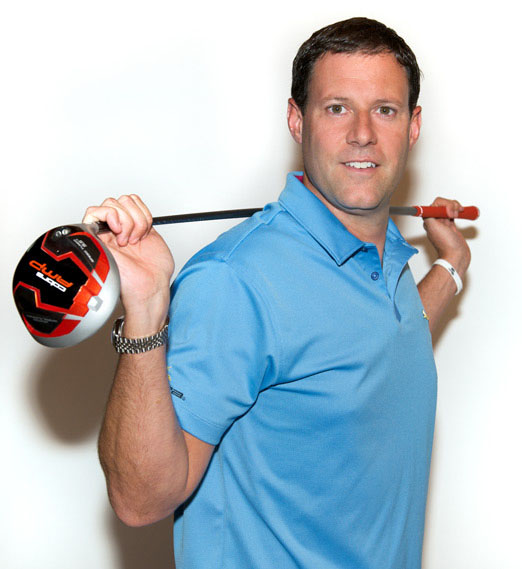 With Rickie Fowler claiming his first ever PGA Tour Title last week at Quail Hollow (the Wells Fargo Championship), the golf world has been buzzing with chatter on the young star. While other publications were all over this one, breaking down his game, the stats, and the story, we were more interested in one thing… what the heck was in his bag?!
Thankfully our good friends at Cobra Puma Golf gave us access to their president, Bob Philion, to answer a few questions.
If you want to know what 'weapons' and technology Rickie used to claim his first win, please read on. There's lots of good gems in here, especially for the Cobra fan.
GolfCrunch: The AFT Technology built-in to Cobra's woods these days is wonderful. We notice from your release that Rickie Fowler plays the AFT in the 'Neutral' position. Does he ever change this, or is he pretty locked-in to the neutral position?
Bob Philion: Rickie is locked into the neutral position on his AMP Driver. We worked with him for a bit to make sure all of the specs were in optimal positions to maximize his already powerful swing. The specs are working for him, he was number one in Total Driving for the Wells Fargo Championship.
GolfCrunch: We noticed that Rickie was using a set of (4-9) AMP Pro Prototype irons… what can you tell us about these prototypes?
Bob Philion: Rickie gave us some insights when we designed his AMP Pro Prototype Irons. They give him excellent feel and accuracy. At the Wells Fargo Championship, he hit just under 80% of greens in regulation, those AMP Pro Proto Irons are working well for him.
GolfCrunch: When can we expect these AMP Pro Irons to hit the market?
Bob Philion: The AMP Pro Irons are not planned to be released at this point. We have released both the AMP Irons that provide players of all abilities a versatile and accurate iron. We've also launched the AMP Forged Iron. Designed for better players, the AMP Forged Irons offer playability with forgiveness.
GolfCrunch: Is Rickie currently testing any other clubs from Cobra? Any changes to his arsenal on the horizon?
Bob Philion: Rickie works with our Research and Development team by providing feedback on what he wants performance wise and design wise. There might be one slight change in the future that we think our fans will be really excited about. We've also been working with Rickie on wedges, you could see him in Trusty Rusty sometime soon.
GolfCrunch: Rickie was dressed in his trademark orange Puma gear on Sunday. What can you tell us about the Golf Duo Swing Mesh Polo he was wearing?
Bob Philion: Rickie's trademark Sunday shirt is the Vibrant Orange Duo Swing Mesh Polo. One of PUMA's most popular tops, it features COOLMAX All Season which keeps Rickie warmer in cool weather and dry and comfortable in hot weather. It also features UPF 50+ for ultimate UV Ray protection, a burnout back mesh panel for ventilation and specially engineered sleeves to reduce friction throughout the swing. It's available in a variety of colors and some patterns.
GolfCrunch: What about the pants?
Bob Philion: Rickie's pants on Sunday were the Vibrant Orange 5-PKT Tech Pant. This style is designed to mimic denim with jean style back pockets and front pockets but have the moisture wicking properties, lightweight fabric and comfortable fit you need when playing 18 holes, or 73 like Rickie did this past week.
GolfCrunch: …and of course, the shoes. Puma has long been known for the shoes. What can you tell us about Rickie's golf shoes?
Bob Philion: Rickie wears the Super Cell Fusion Ice shoes. They feature S2Quill technology and use our Swing Speed Chassis Pro. This combination provides the ultimate traction, comfort and flexibility for a shoe that performs through all 18 holes (or 73!).
GolfCrunch: If our readers want to get their hands on the latest Puma golf apparel, where do you recommend they go?
Bob Philion: Shop.puma.com
A heartfelt thanks to Bob Philion, Kristine Owens and everyone at Cobra Puma Golf for their time!