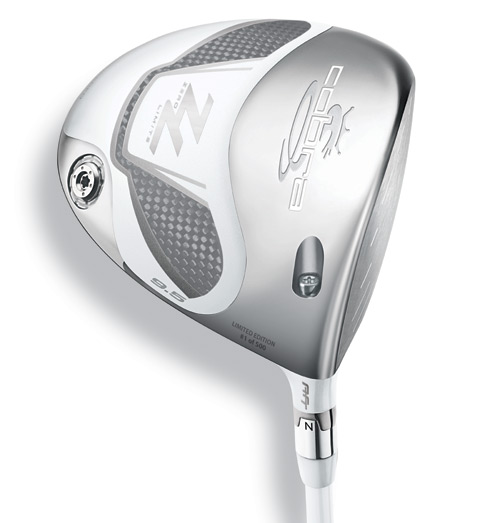 When it comes to stylish and powerful golf clubs, one of the names that comes to mind (for me, anyways) is Cobra Golf. Perhaps it has something to do with the fact that they've graciously sent me their Cobra S2 Driver and Cobra ZL Driver for review… Yeah, you know what, that's what it is! 🙂 But seriously, the folks at Cobra-Puma Golf are on more of the 'cutting edge' when it comes to combining solid golf clubs and stylish apparel.
This story is perhaps a mesh of the two. A wonderful, wonderful mesh of the two.
Cobra Golf has announced a limited edition 'all-white' ZL driver. How awesome is that!? You thought the TaylorMade Rossa Corza Ghost putter looked slick, wait until you feast your eyes on this bad boy. To start, below are a few images of the all-white Cobra ZL driver in-use by Ian Poulter: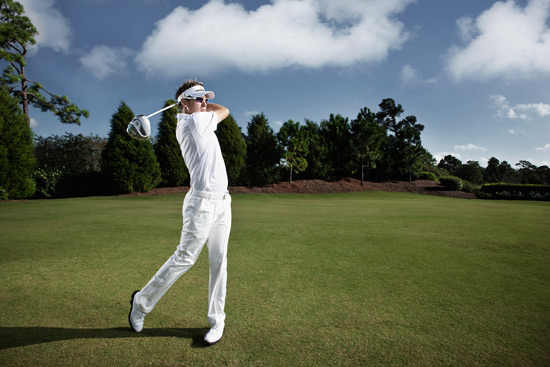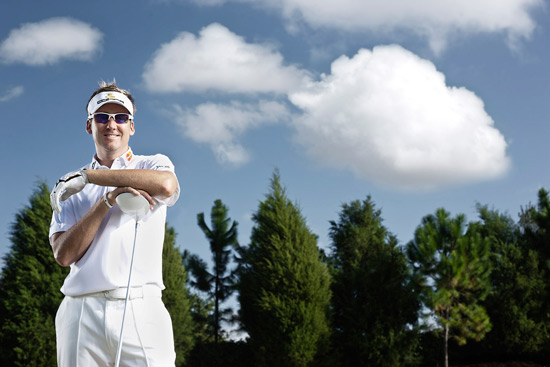 Only 500 of these drivers have been made, and each is marked with a production serial number. Also of note, Cobra staffer Ian Poulter is using the all-white ZL Driver at the World Golf Championships-HSBC Champions event in Shanghai, China. Gotta love that Ian Poulter. So stylish.
I've included the official press release after the jump for your reference. All of the club specs and features are there, so you may want to give it a read if you're interested in this one. It's certainly a one-of-a-kind, er… well, perhaps a 500-of-a-kind item… and speaking from experience, the Cobra ZL is a very solid, workable and explosive driver off the tee.
Let it be known… I want one of these.
COBRA GOLF LAUNCHES LIMITED EDITION "ALL-WHITE" ZL DRIVER PLAYED BY IAN POULTER
Advanced Technology Driver Now Features Unique Cosmetics and Fujikura Motore Speeder Shaft
CARLSBAD, CA (November 4, 2010) – Golf enthusiasts will enjoy a winter white holiday season after all with the launch of Cobra Golf's new Limited Edition ZL Driver, an all-white model loaded with the company's latest technology and an upgraded premium shaft. This driver is sure to be in demand this holiday season.
Only 500 of the Limited Edition ZL Drivers are available globally, and each is individually marked with a production serial number. The Limited Edition ZL Driver utilizes advanced multi-material construction and Adjustable Flight Technology and is paired with a high performance Fujikura Motore Speeder shaft. This exclusive product is ideal for the accomplished player who wants a collectible driver with Tour-caliber performance.
"The Limited Edition ZL Driver is a distinct offering for our loyal customers," says Brian Zender, Senior Vice President and General Manager of COBRA-PUMA GOLF. "The ZL Driver is regarded as one of the highest performing drivers in the market. The Limited Edition ZL demonstrates the unique attitude of the Cobra brand, and our focus on superior performance and innovative design."
The new driver made its Tour debut this week, as COBRA GOLF staffer Ian Poulter – who plays the ZL Driver on the PGA Tour – teed up the all-white ZL Driver at the World Golf Championships-HSBC Champions event in Shanghai.
"It's been a year since my first win with my Cobra ZL Driver, and what a better way to celebrate it than with this Limited Edition model," says Poulter. "I like the visual of the new white ZL, it's really very cool. It's unique and different than any driver I've seen – plus its performance is great, too. It has the identical performance of the driver that I've won with twice."
TOP-OF-THE-LINE SHAFT AND GRIP
The custom all-white, 46" Fujikura Motore Speeder VC 6.0 shaft is an upgrade that has an MSRP of $399 if sold individually. It offers superior overall feel and stabilization for unparalleled distance and accuracy, and also features exclusive custom laser-etched graphics.
The white grip is a Golf Pride Tour Wrap 2G model. It's a one-piece, simulated wrap with enhanced tackiness. Incredibly soft, it combines the look and feel of premium leather with the durability and performance of high-tack rubber.
ZL DRIVER TECHNOLOGY
As with the original ZL Driver, the Limited Edition ZL Driver features an optimized, traditional clubhead shape that maximizes distance, accuracy and forgiveness. Its multi-material construction includes the lightweight carbon fiber crown and sole, complemented by a 6-4 titanium clubhead body and clubface contributing to higher ball speeds and maximum distance. The clubface utilizes Cobra's patented 9 Point Face Technology, bolstered by a milled rhombus, laser-welded face insert plus a thin titanium perimeter.
In addition, Cobra's exclusive Adjustable Flight Technology features an adjustable hosel that golfers can quickly and easily set to one of three face angles (O-open, N-neutral, C-closed), to optimize ball flight and distance.
9 Point Face Technology
A milled rhombus face insert, surrounded by a thin titanium perimeter, creates nine points across a massive Sweet Zone™ that generate increased ball speed, even on off-center hits.
Advanced Multi-Material Construction
The carbon fiber crown and sole, titanium 6-4 body and face, along with the swingweight screw, provide optimal CG, MOI and spin characteristics for high launch, increased distance and control.
Adjustable Flight Technology (AFT)
Three face angle settings (open, neutral and closed) are easy to set, and allow golfers to find the one setting that optimizes their ball flight for maximum distance and accuracy.
The Cobra Limited Edition ZL Driver (MSRP $625) is available in lofts of 9.5° and 10.5°, in men's right-handed with Fujikura Motore Speeder VC 6.0 stiff flex shaft. It will be available Dec. 15, but can be pre-ordered through participating retailers starting Nov. 15. Participating retailers will be listed at www.cobragolf.com.
For more information about Cobra's Limited Edition ZL Driver, visit us online at www.cobragolf.com, or contact Cobra Customer Service (800-917-3300).