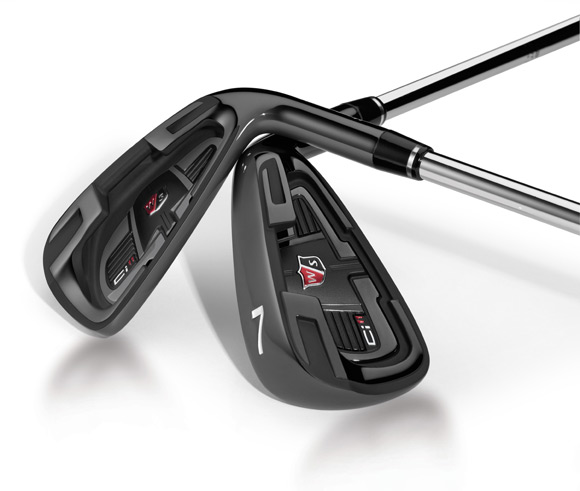 Geared towards the average player looking to improve his or her game, Wilson has introduced the Black PVD Ci11 Irons.
While we haven't had our hands on them just yet, we HAVE played the Di11 irons, and can attest to the easy-to-hit nature of these irons. The Ci11's are no doubt a step in a positive, more 'game improving' direction.
A lot of factors went into designing these game improvement irons. The black finish is all about optics. The higher contrast between the club and ball will help with alignment. The finish also helps the club appear smaller, focusing your attention on making a solid hit. The PVD finish also reduces glare from the sun. The clubhead is what Wilson calls 'optimally' sized… I take that to mean they're not too big, and not too small… just the right size for someone looking to make moves into a low-teen or single digit handicap. Perhaps the most important factor (at least when it comes to setup at address) is the thin top line on these irons. Having played many muscle backs for years, I certainly prefer this look, especially if you like to shape your shots. The C11's set the stage for any golfer looking to take their game to a new level.
Wilson Staff was kind enough to share some press shots with us, please check them out below. After that, feel free to read over the official release. If you have a set of C11's or are a Wilson Staff junkie, we'd love to get your thoughts.
Wilson Staff Black PVD Ci11 Irons – Photo Gallery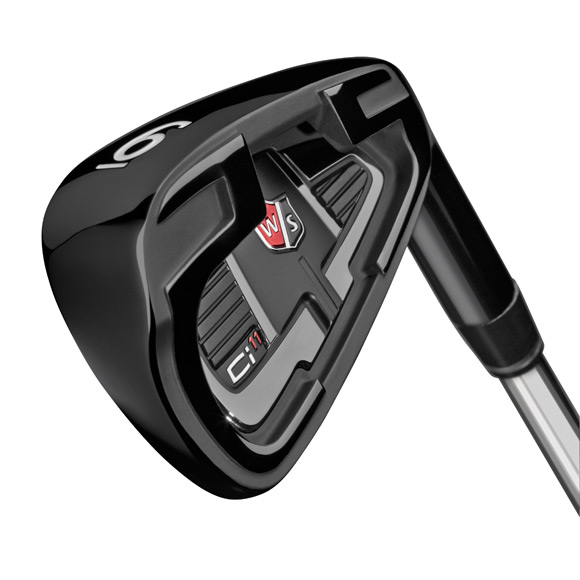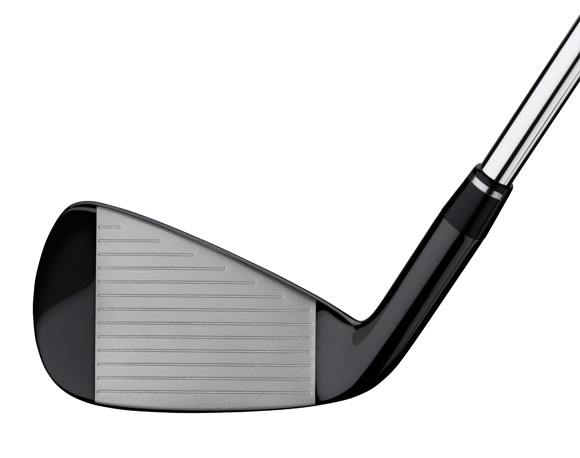 WILSON LAUNCHES NEW BLACK PVD Ci11 IRONS
Striking black irons offer looks, control & distance for 'crossover' golfer
Wilson Golf, the most successful irons manufacturer in the history of the game with 61 Major wins, has launched a fourth generation of its award-winning game-improvement Ci (Control) line with the new Wilson Staff Ci11 irons aimed at 'crossover' golfers looking to make the transition to the better-player category.
The new, striking black PVD Ci11 irons deliver maximum playability for the aspirational golfer, as well as the power and forgiveness for those players looking for additional technology. The club's optimal head size and shape continues the award-winning iron tradition, while maintaining a thin topline and moderately progressive offset that suits the eye of the serious player.
The model is the first iron from Wilson with sleek black PVD colouring across the entire set, helping to minimise the visual appearance of the head size and reduce any glare at address – both factors the better player looks for in an iron.
Re-engineered exoskeleton weighting in the Ci11 provides optimal MOI and stability by pulling weight away from the clubface and towards the heel and toe. The striking irons deliver a crisp feel and satisfying sound on impact through a one-piece, soft-response insert concealed in soft 431 stainless steel that helps dampen vibration even on off-centre shots.
Using the latest in club face technology, the Ci11 irons also feature a thinner, harder face that generates stronger ball flight and greater ball speed and distance.
"These irons fit perfectly into our C-style player category and we're confident that they will deliver maximum playability for the crossover player who also wants additional technology for extra power and forgiveness," said Bob Thurman, Wilson's Vice President of R&D.
The Wilson Staff Ci11 irons are available with True Temper TX Flighted steel shafters, Aldila VS Proto II graphite shafts, or with Wilson's exclusive patent-pending Half & Half shafts (4-PW) at a RRP of £429 (~$689 USD)
For further information about Wilson Staff clubs, visit: www.wilsonstaff.com.